Begin Your Journey
with Confidence
Who We Are
What We Do
Schmitt Wealth Advisers is your independent trusted wealth advocate; a fee-only Registered Investment Advisor experienced in wealth management and focused on your needs first.
Who It's For
Prudent professionals and families seeking to protect and build their wealth through personalized planning and risk management, and not seeking to be a number on the ledger at a national broker.
Why We Do It
We do it because our primary responsibility is to you, and no one else. We are part of this community and invested in making sure you have a knowledgeable, credible and responsible resource to go to for protecting and building your wealth.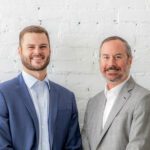 Meet The Team
You're more than a number to us. We believe it is important you know the people working for your financial security.
Contact
We'd like to get to know you. Outstanding advice starts with a relationship. Click below and say hello, it's that easy!
Let's talk about investing in a recession. The problem with recessions is that earnings decline, and P/E multiples decline both at the same time. When these two metrics decline at about the same time, a significant market decline (drawdown) typically occurs. In the post WWII era, the worst drawdown occurred between December 2007 and June […]